Dec 3, 2020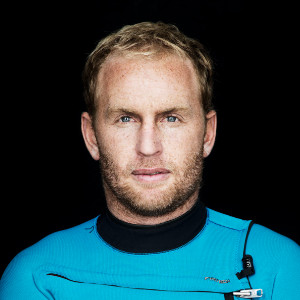 Today's guest is Mark Matthews.
Mark is a big wave surfer and a motivational speaker.
Mark has made a living achieving the near-impossible: crossing the intersection of danger and excitement. He knows all too well the crippling grasp of fear.
While in Tasmania, fifteen feet in front of a cliff in cold, shark-infested waters, Mark hit a reef and instantly blacked out. Terror engulfed every inch of his being. Neck braced and hospital-ridden, he didn't know if he could ever surf again. At that moment, Mark made a decision never to allow fear to overpower him again.
He has deconstructed, fine-tuned, and personalized emotion and resilience techniques to successfully strengthen one's mindset and sustain long term performance.
These techniques have helped him win an unprecedented three consecutive Oakley Big Wave Awards and cement him as one of the best big waves surfers in the world.
In this interview, we discuss his story, big wave surfing, fear and how to overcome it, how to prepare and train, how to become mentally stronger after failure and how to ride the big waves in your own life.
In this interview, we discuss gems like:
Who they are
His fear of the ocean and how he overcame it
How he entered into motivational speaking.
How do you prepare to ride a 'big wave'?
How does he train for the dangers that arise during the ride?
What tools does he use to find the big waves he wants to ride?
How does he mentally prepare for riding giant waves?
How does he pick the waves that he wants to ride and which ones are not safe to try
Ways that you can use fear as a positive emotion to assist you - how you can use overcoming fear to help you overcome another future fear
Ways to overcome impostor syndrome
Ways to recover when you 'wipe out' in your life
How to avoid chasing adrenaline highs
Where does his strength of character come from?
The importance of goal-setting, and how he advises you should use them
Do you need fear to be a top performer?
Would he let his kids take on big wave surfing?
How you can connect with them